Pure Sucralose (Zero-Calorie Sweetener)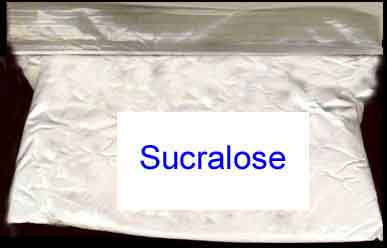 Sucralose is the super-concentrated, no-calorie sweetener found in popular soft drinks like Diet 7-Up and in popular "sugar substitute" brands such as Splenda. However, the grocery-store stuff, like Splenda, has nasty fillers, "bulking agents" and (worst of all) maltodextrin (which does affect blood sugar!). Our Sucralose is 100% pure. This is not the stuff you get in the local grocery store!
What You Get...
Pure, food-industry-grade Sucralose Concentrate (powder), All-Purpose No-Calorie Sweetener, in an 83g (3oz.) packet that is equivalent to 50-Kg (110-Lb ) of regular sugar!!
Comes in small, safety-sealed ziplock packet (shown).
Easy-to-use ... Complete usage instructions included.
Ideal for diabetics diets, low-carb diets, weight control! Perfect for homeade sugar-free candies and desserts!
$70.00 / packet
(Remember: you're getting 110 pounds of sugar equivalent. We buy our products in bulk ... Grocery-store "sugar substitutes" and no-calorie sweeteners, besides being inferior due to added fillers, are way more expensive)
---