United States Travel, Vacation and Holiday Resources
Tips for Travel | California pictures | California Panoramas


Guides and Tips
Airplane and Airline FAQ

California Earthquake Guide:

Prevention & Countermeasures

Earthquake Insurance: Worth the Price?

Is Your Home Earthquake-proof?

Earthquake Design of Large Structures
---
We also supply ...
Equipment for Military, Law Enforcement, Homeland Security, Hunting and more
... publish...
Information and sell Supplies for Outdoorsmen and Sportsmen
... and kid around with ...
The Cavalry-to-the-Rescue & Support Organization!
...but seriously, have a look at our ...
Binoculars, Rifle scopes, Spotting scopes and other Optical Instruments and Accessories (coming soon)
---
Our broad range of products offer something for everyone:
Sightseeing & Guided Tours: City tours, Segway & GPS cars, private tours
Bus & Coach Tours: Minibus tours, city history, hop-on & hop-off buses
Air, Helicopter & Balloon: Grand Canyon helicopter tours, balloon trips in Tuscany
Wild, Wonderful & Wacky: Skydiving, bungy jumping, shark feeding, 'dearly departed'
Food, Wine & Nightlife: Napa wine tasting, cooking in Paris, music pubs in Dublin
Outdoor Activities: Safaris, skiing, golf, 4WD & ATV tours, biking & hiking
Attractions: Museums, zoos, aquariums, landmarks
Theme park passes: Disney, Universal, Kennedy Space Center
Shows, Concerts & Events: UK football, Broadway musicals, Las Vegas shows
Transfers and Parking: Airport and hotel transfers, airport parking

Over 5,000 products in 65+ countries. This web site focuses on top tourist destinations in the following geographies: the United States, Canada, Europe, Mexico and Central America, the Caribbean, Australia, New Zealand and the Asia-Pacific region.
Our vendor partner has created the world's most comprehensive online resource for travelers to plan "the things you do when you get there." With a market-leading selection of more than 4,200 destination-activities that spans 420 cities in 70+ countries, Our vendor partner is the traveler's one-stop-shop for researching, planning, and booking destination activities that meet a variety of tastes and preferences. Our vendor partner offers something for everyone -- from the traditional excursion to the extreme adventure... and everything in between.
Unlike many destination sites that aggregate content from various sources, our vendor partner is not a paid listing or advertising site. Our vendor partner's activities are provided by reputable local operators, hand-selected by the company's in-house travel experts who routinely review and validate these activities for quality of experience, overall value and superior service.
Our vendor partner understands that travel – like life – is made up of unique moments that can make trips memorable for a lifetime. Our goal is to enable you to have unforgettable experiences each and every time they travel.


<---- Scroll this image left to right to see all ---->
Above: 190° view from Keys View in Joshua Tree National Park (JTNP), California. The elevation here is about 5,100 ft. (1,555 meters) and the wind currents from the San Gorgonio pass can be very powerful. But that wind can be put to good, environmental use (I imaged the photograph on this page the same day as the image above -- very windy!). For the photo above, be sure to scroll your browser left to right so that you may see the entire panorama. I have captured many more JTNP pics; see the following pages: Cottonwood/Colorado-Desert Section, Wonderland of Rocks, Ryan Mountain, Lost Horse Valley, and Keys View (another, more scenic version of Keys view).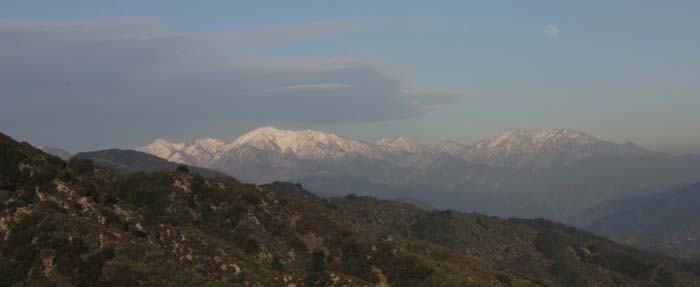 Above: A view from Southern California's Angeles National Forest (elevation roughly 4,700 ft.), near Mt. Wilson road. This view faces west toward Mt. Baldy, Cucamonga and Ontario peak. Yes -- you can ski just a few miles from palm trees! Visit Southern California for your next vacation.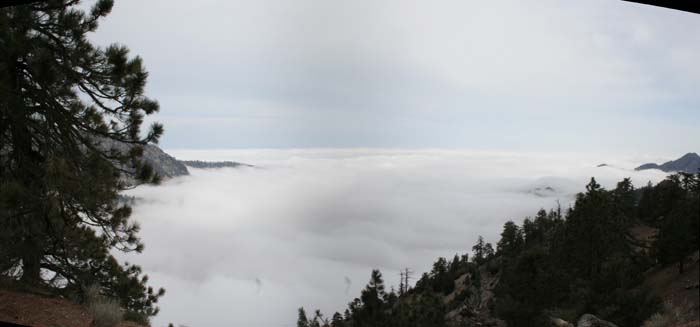 Above: A view from Southern California's Angeles National Forest (elevation roughly 6,300 ft.), near the ski town of Snowcrest. Here, cumulus (rain) clouds blanket eastern Los Angeles and western San Bernardino counties.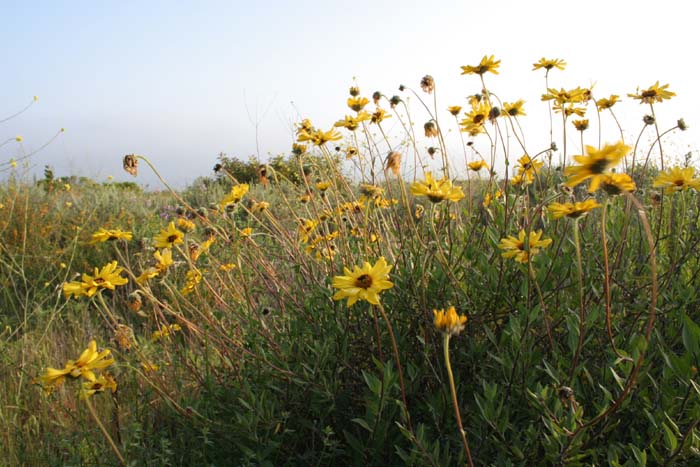 Above: Spring sun-flowers in Malibu, California.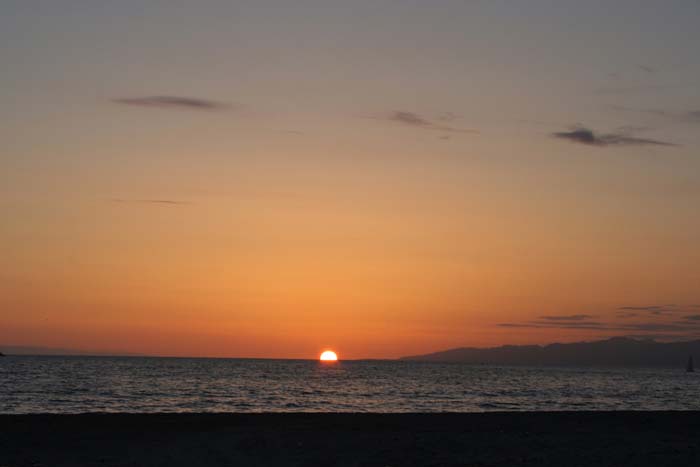 Above: Pacific sunset starset as seen from a beach in El Segundo, California.
Tips and Links:
United States National Park Service
California State Parks has something for everybody -- year-round. Whether it's hiking, biking, strolling on a beach ...
Vacation Safety Tips: The Changing Face of Air Travel; Do You Need a Vacation From Your Vacation?; Vacation Safety Checklist; Vacation Travel Tips
Travel Tips for Students -- Advice from U.S. Department of State
International Travel Information -- Advice from U.S. Department of State
Tips for Traveling Abroad (non-U.S. destinations) -- Advice from U.S. Department of State
Document Requirements (for U.S. travellers) -- Advice from U.S. Department of State
New Requirements for Travelers -- The Intelligence Reform and Terrorism Prevention Act of 2004 requires that by January 1, 2008, travelers to and from the Caribbean, Bermuda, Panama, Mexico and Canada have a passport or other secure, accepted document to enter or re-enter the United States.
About Overseas Citizens Services -- Overseas Citizens Services (OCS) in the State Department''s Bureau of Consular Affairs is responsible for the welfare and whereabouts of U.S. citizens traveling and residing abroad. OCS has three offices: American Citizens Services and Crisis Management, the Office of Children''s Issues and the Office of Policy Review and Interagency Liaison.
Updated: Monday, June 12, 2023 3:55 PM PST