-- Outline of Contents --
Outline and About this Guide (this page)
Leatherworking
Macramé
Decoupage
Candle making
Papier-mâché
Basketry
Spinning and dyeing
Weaving
Batik and tie-dyeing
Stained glass
String art
Origami
Pottery
Quilt making
Modeling, mold making, and casting sculpture
Printmaking
Printing on fabric
Stenciling
Collage
Wood sculpture
Metalworking
Indoor gardening
Drying and preserving flowers
Mosaics
Lapidary
Jewelry
Enameling
Woodworking
Picture framing
Preserving fruit
Breads from around the world
Winemaking
Restoring furniture
Bookbinding
---
About this guide / Introduction
We live in an age when the flick of an app on an iPhone brings us immediate diversion — enough to fill all our evenings and weekends year in and year out. A quick trip to a department store or shopping center provides us with an endless choice of manufactured comforts—machine-made wearing apparel, veneer furniture, plastic toys, vinyl fabrics, precooked foods, and even reproductions of famous works of art. While we have grown accustomed to these conveniences and rely upon some of them as necessities of everyday life, many of us have begun looking back to a less commercial, more individually creative time. To a time when people enjoyed the pleasures of the quilting bee and savored the aroma of bread baking in their own kitchens. To a time when they knew the feel of natural woven fabrics and the unalloyed honesty of handcrafted furniture.
All over America people are once again doing things with their own hands. Hundreds of thousands of Americans are forsaking their television sets and heading for the sewing room or basement workshop for a few hours of stimulating creative activity. Some of them concentrate on handcrafting home furnishings that they cannot afford to buy or that are just not available any longer. Others create gifts for friends and relatives or work simply to enjoy the satisfaction of personal creation. In response to this new surge of interest in crafts, schools and community centers are giving classes in crafts of every description. In addition, crafts fairs, where home craftsmen can display—and market—their creations, are springing up in almost every county of every state in the union.
Some observers of the current trends in American life have gone so far as to call this phenomenal new interest in crafts a crafts revival. We agree with this assessment. More and more Americans who have never before attempted to build or stitch or weave or carve or shape or paint with their own hands are now eager to learn how. We have designed this guide to provide basic help for such enthusiasts.
There is much in this guide for the newcomer to the world of crafts. More than 40 crafts are treated in these pages. Each section provides a brief history of a craft and photographs of one or two of its finest examples. Then the tools, materials, and techniques of the craft are illustrated and discussed in detail. Finally, specific projects are suggested for most of the crafts, complete with plans and illustrated instructions for making them.
You can use this guide in many ways. You can browse through it for your reading pleasure or to satisfy your curiosity about the way certain things are done—how a loom works, for example, or how a stained glass window is put together or how a dovetail joint is cut for a wooden cabinet. You can also use it as a reference and teach yourself crafts you have always wanted to learn. If you are considering working in a craft but cannot decide which craft you would best like to work in, you can use this guide as a giant menu. Read through it or dip first into one section, then into another, and find out exactly what is involved in the crafts you think might interest you, paying particular attention to the variety of tools and materials needed and the ease or difficulty of the techniques.
Crafts & Hobbies contains more than 4,000 drawings and photographs, detailing just about everything there is to know about each craft. The sections on the more complex crafts present a variety of possible do-it-yourself projects, ranging from the easy to the difficult. If you are new to a craft, you can begin with the easy projects and then, if you wish, proceed to the difficult ones. But one word of warning: before you do any work on a project from this guide, read through the entire section it appears in. Don't plunge right into the project, as there is much pertinent information in the techniques section of the section that you will need to know, but which is not repeated in the directions for making the project.
In consideration of the part-time craftsman who does not wish to spend a lot of money on a craft, many of the sections offer choices as to investment in equipment and supplies. For example, the section on pottery provides instructions for creating pots on a potter's wheel and firing them in an electric kiln. But you don't have to buy either a wheel or an electric kiln to work with pottery, for the section also contains pages on hand-building pottery and on firing earthenware pots in a charcoal-burning kiln you can build yourself with rocks or bricks.
But Crafts & Hobbies is not for beginners only. Far from it. The consultants who worked with us in creating these pages (see Consultants' biographies) are among the leading craftsmen and craftswomen working today. In conjunction with the editors, these experts have striven to make this volume a veritable encyclopedia of major crafts techniques. Thus, the experienced artisan or hobbyist will find Crafts & Hobbies a helpful reference volume, not only to check himself on key steps in his own craft activities but to familiarize himself with the work of others.
Although the consultants and editors pride themselves on the wealth of high-level technical information in this volume, the guide also contains many activities and projects that make simple and enjoyable pastimes for youngsters. Turn, for instance, to Decoupage, Candle making, Papier-mâché, Batik and tie-dyeing, Origami, Painting, Printing on fabric, Stenciling, or Collage. Similarly, an adult can find inspiration for activities on a rainy afternoon or an evening at home in almost any section. It costs very little, For example, to make a fashionable and attractive jump-ring bracelet (see the jewelry section) or to bake one of the exotic or traditional breads from another part of the world (see Breads from around the world) or to dry flowers for your own arrangements (see the section on drying and preserving flowers).
Best of all, this is a guide that may introduce you to talents you never realized you had. It may bring you face to face for the first time with that wonderful instinct, your own creative urge.
---
This guide adapted from Reader's Digest -- Crafts and Hobbies: A Step-by-Step Guide to Creative Skills (1979)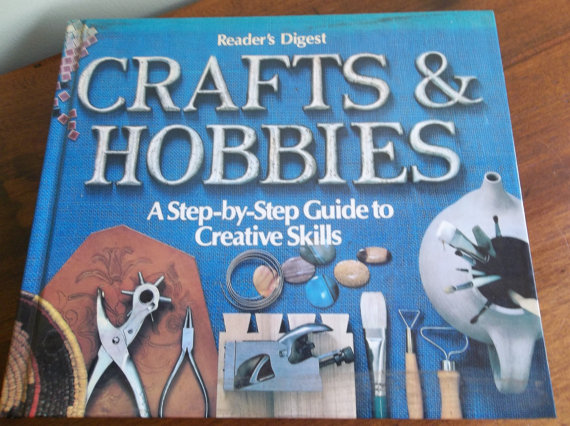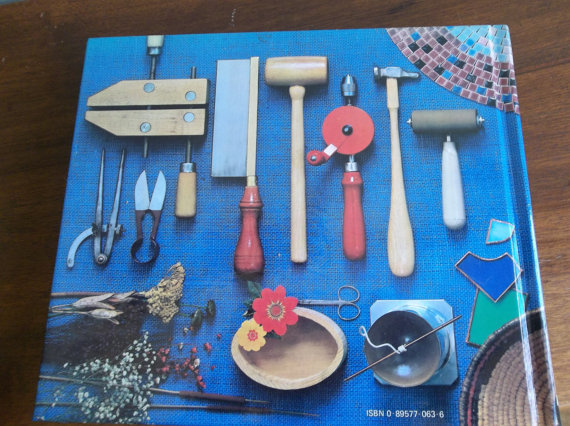 Published in 1979 by Reader's Digest, ISBN 0-89577p-006306. A useful topical reference! If you like crafting or want to learn, this book will give you the know-how you need to create just about anything. Stained glass, jewelry, painting, papier-mache, metalworking, basketry, mosaics, pottery. If you want to know how to do a craft, chances are, it's in here..
Prev.: (none) | Next: Creating a home workshop

top of page Home Page